Posts Tagged 'SEMA Show 2010'
One car that stood out at the SEMA Show was GTM's Nissan 370Z.  Once we stopped collectively drooling over it we managed to talk to the owner, Mike Mixon.  Mike was in a sharing mood, it turns out there are some pretty interesting and unique mods which have been done to this "Z".
Adrian eluded to this little number in "The Fitment" article he posted a few weeks back, so here is the full meal deal.  This Honda is unique, I will definitely  give it that. It is obvious that a lot of cheddah and wrench time went in to this build.  It also stood out in the crowd as this was one of few civics in attendance. Also it had wider rear tires then many of the actual RWD in attendance. It isn't really the type of jelly I like to put on my toast but to each their own, it does take a lot of dedication to build something like this.
It occurred to me that it is Wednesday and that day requires wheels.  Wheels of all different sizes, width, and offsets, whether they are hung on walls or placed on cars.  So with out further ado here you go.
Some of you may like this post, some of you may love it.
There, I think I've covered everyone.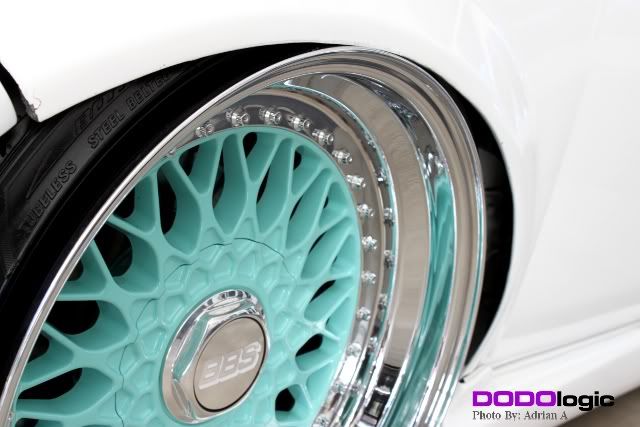 We have discused the Ford Out Front but there was more out front then just some Fords.  To be honest some of my favorite cars at this massive show were the ones outside. Walking around outside was like being at a really cool show and shine.  I miss it, especially the walking around outside part.  Sasktatchewan has been getting dumped on lately and makes me long for the sunny Vegas days.
Read the rest of this entry »
First and foremost these wheels real aren't wacky, however I loves me an alliteration.  So I am going to try this thing where I post up wheels on Wednesdays.  This sounds like a fun idea, but I may forget in a weeks time.  So let us begin with the first and possibly the last Wacky Wheel Wednesday.
The Giovanna booth is never the same twice and is always like nothing you have ever seen before.  Well maybe it is, that is really not for me to say.  All I know is that the Giovanna booth can change ones perception of how they see cars.  After stepping foot in their booth you will never look at exotics the same way again.  But first, really cool bicycles!
One of our favorite things to do at the SEMA Show is to watch roll out. It is always fun to see some of the vehicles in motion. So through the power of video manipulation here is some of Roll Out in under 3 minutes.
SEMA Show 2010 Roll out X DODOlogic.ca from Ryan Benoit on Vimeo.
Originally I was going to title this post three rounds with the champ, but this is no time to be clever. Vaughn Gittin Jr. is of course the 2010 Formula D champ and I was lucky enough to get three goes around the track with him at the Ford Out Front display.  What was even more amazing, was running tandem against Justin Pawlik on such a tight course.  Not everyone had the chance to  partake in the tandem demo,  so I was ecstatic when I heard Vaughn say, "tell Justin we are going to do the demo now."
Justin piloted a Mustang RTR which is Vaughn's signature edition Mustang, while Vaughn himself was behind the wheel of his demo car.  Vaughn's demo car is not to be confused with his championship Mustang that was used to take home the championship in Formula D this year.  The demo car is lacking the carbon fiber body and a few hundred horsepower, but Vaughn still threw it down.
I have been a big fan of Jr.  for a few years now.  His all or nothing driving style and passion for the sport can make a believer out of almost anyone.  So needless to say this was an unreal experience and I am thankful to all the people that made this a reality.  I'll stop rambling like a little school girl and let you watch the video.
Ford Out Front X Vaughn Gittin Jr. X SEMA Show 2010 from Ryan Benoit on Vimeo.