While walking around Defrost, Chris Klein asked me if I wanted to photograph a little drift session that was going to take place that afternoon. We made the short trip out to Kings Park Speedway.
This past Saturday a few Saskatchewan drifters got together at Kings Park Speedway and put on a little drift event. Drivers from all over Saskatchewan and few from Alberta spent the day battling the cold and drifting the oval.


Read the rest of this entry »
I have been dividing a lot of our content between our Facebook page and the site itself. So if you follow us on Facebook then I am sorry because you have seen some of these shots. However, if you don't follow us on Facebook, you should get on it.
Read the rest of this entry »
I have pretty much run out of things that are  even half relevant to say. I can't regale you with anymore tales of whimsy or adventure. All I can do is show you some pictures of cars going sideways at Evergreen Speedway and ask rhetorical questions.

Read the rest of this entry »
Lately it seems as though our city has no problem pumping out cars that the internet loves. This 240sx vert owned by Aidan Wagner was a social media hit just hours after it was put together, thanks to a lot of patience and research, Aidan's car turned out to be more than perfect.
I have had the pleasure of attending Formula D twice in the past and soon I will make my third trip. To most, this probably isn't a huge deal, but living in Saskatchewan creates a few hurdles to make this happen. Usually to get to events you have to put a few hundred kilometers behind you (sometimes thousands). Anyway, I was getting my equipment set for the up coming weeks and I was making room on my laptop for new photos. While doing this, I came across some content from the past few years.
Read the rest of this entry »
Here's a random picture of Aidan Wagner's 240sx.
Clean s13 – rare, Clean s13 vert – more rare than a shiny 1st edition Charizard.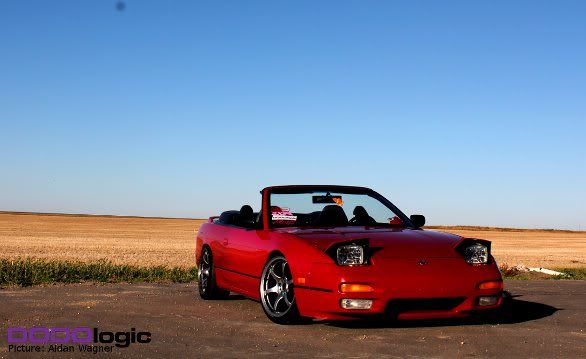 This car is also apparently the highest elevation point in Sask for miles.
I have been traveling so much lately that I almost forgot what today is. Luckly for me, I now have pictures of wheels from all across Western Canada. Today's wheels come all the way from Calgary and belong to Drift Squad. Now we have been internet friends with this drift team for a decent amount of time.  However, after this past weekend I can officially file them under rad in my rolodex. The two subjucts in question are non-other then JDM-Jack Connelly and all around nice guy Eric Zapata.
As promised, here are some of the shots I managed to grab during my time at Pacific Grand Prix.  Being that I first drifted on a cart track, I felt almost at home at PGP.   It's beautiful landscaping and unique backdrop make it a great time.  Not to mention the cars sliding around on it.  There were many drivers, all of them with their own driving styles and skill levels, this made it a great watch.  As always, I like to keep things simple.  So pictures it is!
I wanted to start everyone off with a little appetizer, while I continue to edit photos of the drifting at Pacific Grand Prix from last weekend. While attending a drift event, or any automotive event for that matter, you must always take a stroll through the parking lot. Usually fans of nice cars, generally have their own version of a nice car. So lets keep this simple. Here are a few that stood out for me.